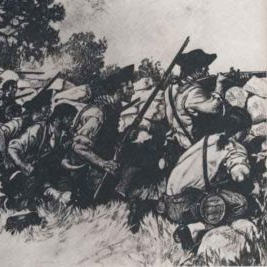 As the Fort Ticonderoga garrison escapes the attacking British under General Burgoyne, American General Arthur St. Clair leaves a rearguard at Hubbardton to prevent the British from advancing on the retreating army.
Colonel Seth Warner commands the American rearguard, which is still at Hubbardton when the British advance guard, under the command of  General Simon Fraser, catches up to them.  A brutal wilderness battle rages for hours in the wooded mountains.  Finally German reinforcements under the command of General Friedrich von Riedesel reach the battle and force the remaining Americans to flee into the woods.
Visit my site at https://blog.AmRevPodcast.com for more text, pictures, maps, and sources on this topic.
Book Recommendation of the Week: The Battle of Hubbardton: The Rear Guard Action That Saved America, by Bruce M Venter
Online Recommendation of the Week: Animated Map of the Battle of Hubbardton, by Seth Warner's Regiment https://www.youtube.com/watch?v=pdCdykHbP4s&t=11s