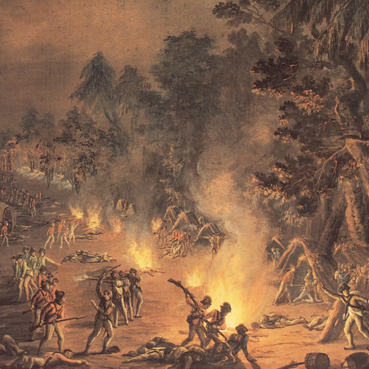 As the British Army plans its final assault on Philadelphia, the continentals leave an army in the British rear to harass them.  This army, led by General Anthony Wayne, took a position near Paoli Tavern.  A British force led by General Charles Grey attacked the continentals at night, using bayonets to dispatch the enemy silently.  Most of the Continentals fled into the dark woods.  
Following the destruction of the army in their rear, the British crossed the Schuylkill river and took possession of Philadelphia.
Visit my site at https://blog.AmRevPodcast.com for more text, pictures, maps, and sources on this topic.
Book Recommendation of the Week: Battle of Paoli, by Thomas J. McGuire (2006).
Online Recommendation of the Week: Futhey, J. Smith "The Massacre of Paoli" The Pennsylvania Magazine of History and Biography, vol. 1, no. 3, 1877, pp. 285–319: https://archive.org/details/jstor-20084293